Skip Main Content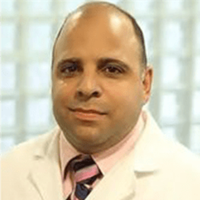 Julio Ramos, MD FACP FACR
Rheumatologist in Avoca, PA
ROLE:
Rheumatologist
SPECIALTIES:
LANGUAGES:
WE CARE ABOUT YOUR FEEDBACK!
Please take a moment and let us know how your experience was.
REVIEW US
Meet Julio Ramos, MD FACP FACR
Julio Ramos, MD, FACR, FACP, has over 21 years experience as a rheumatologist and internist. At Ramos Rheumatology, PC in Avoca, Pennsylvania, Dr. Ramos works closely with primary care providers regularly and is the only rheumatologist with hospital privileges in the Scranton area. After graduating from King's College in Wilkes-Barre, Pennsylvania, with his Bachelor of Science in biology, Dr. Ramos attended Ross University School of Medicine on the island of Dominica in the Caribbean. He then studied in the Scranton area and has continued working in the community. After interning at the Scranton-Temple Residency Program at the Wright Center in Jermyn, Pennsylvania, and also serving as chief resident, he accepted a fellowship at Geisinger Medical Center in Danville, Pennsylvania. Dr. Ramos advanced his education and career until starting his own practice in Avoca. Dr. Ramos currently serves as vice president of the Luzerne County Medical Society. He's also a member of numerous professional organizations, including Fellow of the American College of Rheumatology, Fellow of the American College of Physicians, Pennsylvania Medical Society, American College of Rheumatology, Luzerne County Medical Association, and Pennsylvania Rheumatology Society. A strong believer in treating his patients like family, Dr. Ramos gives them an active role in their specific treatment plan. He is one of the few doctors selected for treating opioid-addicted patients with medication-assisted therapy. He focuses on a friendly and educational approach with patients and puts their care first. Dr. Ramos is currently accepting new patients. Call Ramos Rheumatology, PC to schedule an appointment today.
Education
Ross University School of Medicine

King's College
Thank you for subscribing!
You will receive important news and updates from our practice directly to your inbox.
Thanks!